Japan is one of the most advanced countries economically and technologically. Since the 1960s, Japan has experienced strong growth in all economic sectors, particularly road infrastructure and rail transport.
The first high-speed line was only inaugurated in 1964, which means the gradual withdrawal of express trains and night trains. Despite the expansion of the network and increasingly advanced technologies, Japanese night trains have never stopped thanks to the unique charm of the " Sunrise " line …
The only remaining night trains in Japan are Sunrise Seto and Sunrise Izumo. These two trains are very special, they travel together on the way from Tokyo to Okayama in a unique solution consisting of 14 cars, which then divides into two trains headed one to Takamatsu (Sunrise Seto) and the other in the city from Izumo (Sunrise Izumo).
On the way back, the two trains travel separately to Okayama town to meet again and form a single massive locomotive that travels to the capital Tokyo.
The Sunrise leaves daily from Tokyo Station at 22:00 and arrives at Takamatsu at 7:28 am and Izumo at 09:58. Choosing a Sunrise train can save travelers a hotel night and, above all, give the unique charm that only a trip of this kind can give them!
Seto and Izumo do not offer traditional seats: on each wagon, there are private cabins and common rooms called " nobi nobi " where you can lie down and sit on the floor with comfortable carpets.
For those who have a subscription to the Japanese rail system Japan Rail Pass traveling on the nobi nobi is completely free, while the price of a cabin is about 17,000 yen (about 135 €).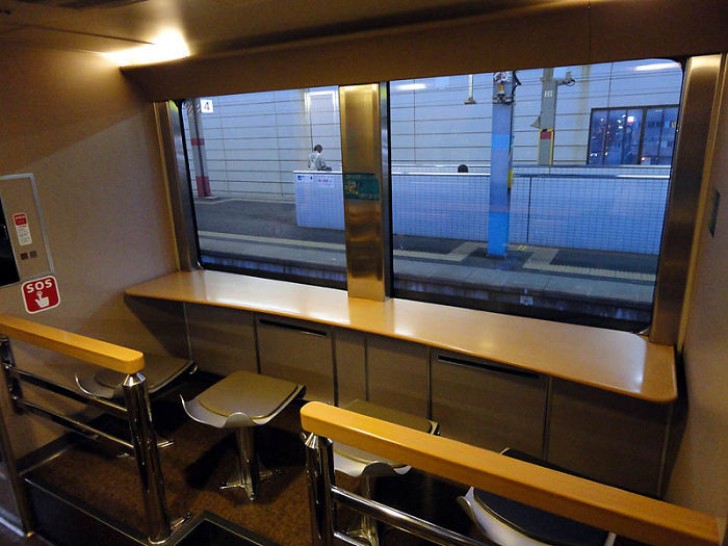 image: W0746203-1 / Wikimedia
Common areas include lounges, toilets, vending machines and a powder room, for which you must buy a token to enjoy about 6 minutes of water. However, a limited number of accesses are on sale, so it is advisable to buy enough of them well in advance!
Still, there are many proposals for traveling on a night train to Japan: other rail companies offer luxury solutions for a five-star trip between super-stylish cabins and dining cars where Michelin-starred chefs cook.
The most famous is the Twilight Express Mizukaze and the Seven Stars Train: although very different from each other, one more modern and the other more traditional, the price of the two is for many inaccessible! A trip in one of these trains can even cost more than 9,000 €!
Twilight Express
Seven stars train