Ideas for tattoos on fingers for women and men are amazing, fun and with a variety of designs and spectacular approaches, in addition to the impact of the area and that you can make combinations that will always be visible.
But in addition to the theory that tattoos on fingers are erased, there are a number of challenges that a person who wants to tattoo this area faces. In this special, we collect all the questions that concern this peculiar location for a tattoo as well as images of tattoos on fingers for all tastes and colors.
With all this material you will be more informed and aware of the decision you make when getting a tattoo on your finger, in addition to seeing how other people have approached it and what styles go "like a finger ring" to this area, never better said.
What problems can tattoos give on fingers?
Celebrities greatly influence tattoo trends, they have been responsible for many people wanting to tattoo their fingers, often without stopping to think if it is suitable for their lifestyle or if they should try to tattoo another simpler area first. , before making the jump to a tattoo in this area.
This is what fashions have, while in the day all tattoos were done in areas such as the lower back or shoulder, now there are other parts that are more appealing among the general public who choose to get their first tattoo in highly visible places like the finger.
Here you have a series of facts that you should know before getting a tattoo on your finger, keep in mind that the best thing you can do after getting informed and seeing these images of designs on your fingers, is to go to your studio and consult your doubts at tattoo artist.
It is not as forceful nor does it always happen, but the tattoos that are placed in areas such as the fingers are in contact and constant exposure and therefore their wear is greater.
Must Read: 140 Forearm Tattoos for Men with Meaning
The tattoos are almost always erased if they are on the lateral face of the finger, that is, between one finger and the other, so that we understand each other the typical tattoo of a mustache on the inner face of the index finger, the one that is so funny to your colleagues, that insurance that ends up erasing.
Must Read: 60 Perfect Rose Tattoos for Women
Finger tattoos hurt
Yes, it hurts, itches, it is quite annoying to tattoo your finger, it is not unbearable pain, but you should consider that the fingers are full of nerves and that the skin is quite thin, it is also placed directly on the bones such as the knuckle and phalanx.
Must Read: 100+ Family Tattoos: kids, girls, parents and more
Unless you have your fingers as black pudding, there is usually not much fat in this area, so the tattoo needle affects the force of the lack of cushioning. It is for this reason that tattoos here are considerably annoying, although, like all, it depends on your tolerance and threshold of pain when tattooing.

Not the best place for convoluted designs
Ideas for tattoos on fingers for women and men represent a small space, with delicate skin and little maneuverability on the part of the tattoo artist. In addition, the skin in that area does not absorb ink as well, so the colors do not shine the same.
If you want something simple, like the small and elegant ones or you want to form a word, tattooing each of your knuckles or making loose letters, even those of love or those of couples with designs that are placed subtly and as a ring, then yes fingers are a good idea.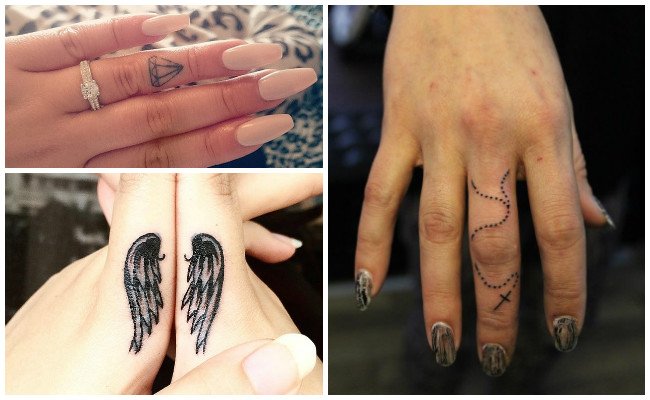 Images of tattoos on fingers and toes
Some of the examples and ideas for tattoos on fingers for women and men that you can see, clearly indicate how a tattoo should be focused on the ring, for example, if they are designs on the finger for couples that seal their love with ink or tattoos on the heart for those who are willing to have a symbol that represents and defines them in a visible way.
If you have read the tips on tattoos on finger and toe, you will know how to choose your design well and you will be able to enjoy a very visible tattoo that has immeasurable aesthetic strength, not suitable for all audiences but that highly reflects your personality and transgressive attitude.