Eminem and his daughter: Eminem's daughter became a real influencer in a few months. Back on the journey of the young woman …who is his daughter who has become a social media superstar?
On December 25, 1995, Eminem became the father of a daughter named Hailie Jade Scott Mathers, born of her union with Kimberly Scott. The interpreter of "Love the Way You Lie" is also the adoptive father of two other children: Alaina, born May 3, 1993, and Whitney, who was born in April 2002. Today if Hailie stands on her own two feet in Detroit, the young woman was educated in the presence of her parents, despite the couple's many separations.
And from her earliest childhood, Hailie was revealed to the general public. At the age of 17, for example, she was elected queen of her high school ball. And according to details revealed by the school site, macombdaily.com, "Hailie was with her mother when she won the crown, but her father watched it in secret because he didn't want to steal the show. to his daughter".
Proud of his daughter, therefore, Eminem followed the ceremony away from prying eyes. But as soon as he was elected, the famous rapper could not help shouting his joy: "Suddenly I saw a door open, Eminem appeared and he exclaimed: 'She is my daughter! ', proud like any dad,' said a parent.
Eminem and his daughter Hailie, an Instagram star
In addition to her studies – she graduated in psychology from Michigan State University – Hailie took her first steps on Instagram. Very active on social networks, the beautiful girl regularly shares photos of herself and her daily life there. Very quickly, she even became a real influencer. To date – January 17, 2020 – the young woman has accumulated nearly 2 million subscribers on her certified account.
Between her looks, her travels and her encounters, Hailie arouses the admiration of her subscribers. But on her Instagram account, Eminem's daughter is very discreet when it comes to her private life. On December 28, 2016, she posted a photo of herself with her boyfriend to celebrate her birthday. But no snapshot of her and her father appears on this network…
Hailie, Eminem's greatest inspiration
During his impressive career, the one who has just unveiled a surprise album has repeatedly mentioned his daughter through the lyrics of his titles. We especially remember his songs "97 Bonnie & Clide", "Clide" or "My Dad Gones Crazy". In the title "When I'm Gone" in 2005, Eminem also opened his heart to the fact of not having been present enough for his own. The rapper also decided to speak directly to his daughter through the title "Hailies Song" where he spoke of his happiness to be a father. The young woman is also present in the clips of her father and in particular through childhood videos that can be seen in "Mockingbird".
Eminem, his daughters and his role as father, his greatest "prides"
In a program hosted by Mike Tyson, Eminem shared rare secrets about his daughter Hailie and his role as father, his greatest "accomplishment".
Eminem is not one to talk about his feelings and his private life in public. But when it comes to her daughters, her biggest "pride", the deal is quite different. In an interview recorded with Mike Tyson and published on March 20, 2020 on Youtube, the 47-year-old rapper first confided in his elder, Hailie (23), born from his previous marriage to Kimberly Anne Scott.
When Mike Tyson asks her if Hailie is married or if she too has become a mother, the American artist replies: "No, no babies. Just a boyfriend. She's very well. It clearly made me proud. She graduated from college with a score of 3.9 [which represents about an A + or 94% success rate, note], "he said. Hailie Scott studied psychology at Michigan State University. "It's completely crazy," he also admitted about the passing of time and the age of his daughter, who he had when he was 23 years old.
Eminem continued: "I have a niece whom I also raised, who I consider to be my own daughter, and she is 26 years old [Alaina, whose biological mother is Kim's sister, editor's note]. Then I also have a younger daughter [Whitney, whose mother is Kim but who was born from a brief idyll of the latter with another man and which Eminem adopted, note] who is 17 years old now. So when I think of all of my accomplishments, it's probably the one I'm most proud of, that of being able to raise children, "he concluded.
Eminem's daughter Hailie Scott reveals impressive abs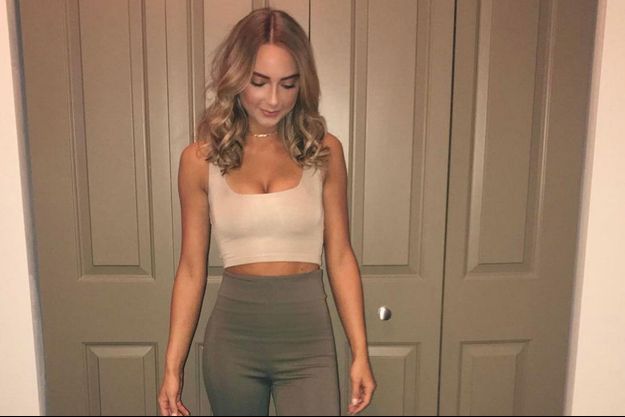 Hailie Scott Mathers NewsPictures
While she is on vacation in Hawaii, Hailie Scott took the opportunity to reveal a snapshot of her in a bikini on her Instagram account this Monday, revealing in passing a very muscular belly.
Eminem 's daughter has grown up well. At the age of 23, Hailie Scott has become a real it-girl on social networks. If she mainly posts photos of her outfits for the day, she also doesn't hesitate to show off her muscular body. Monday, March 25, the girl revealed a snapshot of her in a bikini on Instagram while she is on vacation in Hawaii. We see her pose on a terrace, a flower in her hair and her yellow swimsuit highlights impressive abdominals on the second shot in the series. A recipe that works since the publication reaches almost 200,000 "likes".
View this post on Instagram
Born in December 1995, Hailie Scott was born from the previous marriage of Eminem (aka Marshall Bruce Mathers) to Kimberly Anne Scott. Far from his father's showbiz universe, Hailie Scott studied psychology at Michigan State University before dreaming of being an influencer on social networks. Today, the young woman can count on the support of her fans to achieve this since her Instagram account now peaks over a million subscribers.
A timeless muse
The fusion between Eminem and his daughter is also reflected in music. Without being a rap prodigy, Hailie would be her father's main muse. "97 Bonnie & Clide", "Kim" or "My Dad Gones Crazy" are all three titles where Hailie is mentioned.
Songs which return mainly to the difficult authorship of Eminem due in particular to the economic problems which this last met. Just like the song "Mockingbird", where Eminem tells how he lost his job in the restaurant, just before Christmas, the birthday of the little girl. A period he described as "the worst of his life" in the columns of Rolling Stone magazine, in 1999.
In total, according to the Heavy site , the young woman would be mentioned in no less than 22 songs. One of which is named "Hailie's Song".
Featured Image: Ladbible